Every season, I'm pretty sure I reach a certain point when I just get sick of the weather. And now that winter's coming to an end in Australia, I can definitely feel it! I love wintery fashion and all, but I'm sick of being cold all the time. Bring on the t-shirts, breezy skirts and strappy sandals. I'm ready for spring already!
Even though I won't be able to wear these winter looks for much longer, I thought I'd share them anyway. These are examples of outfits I'd wear on literally any day of the week. I work in a pretty relaxed office, so I don't really have any concept of work or casual clothes! They're all one and the same to me. Anyway, onto the outfits: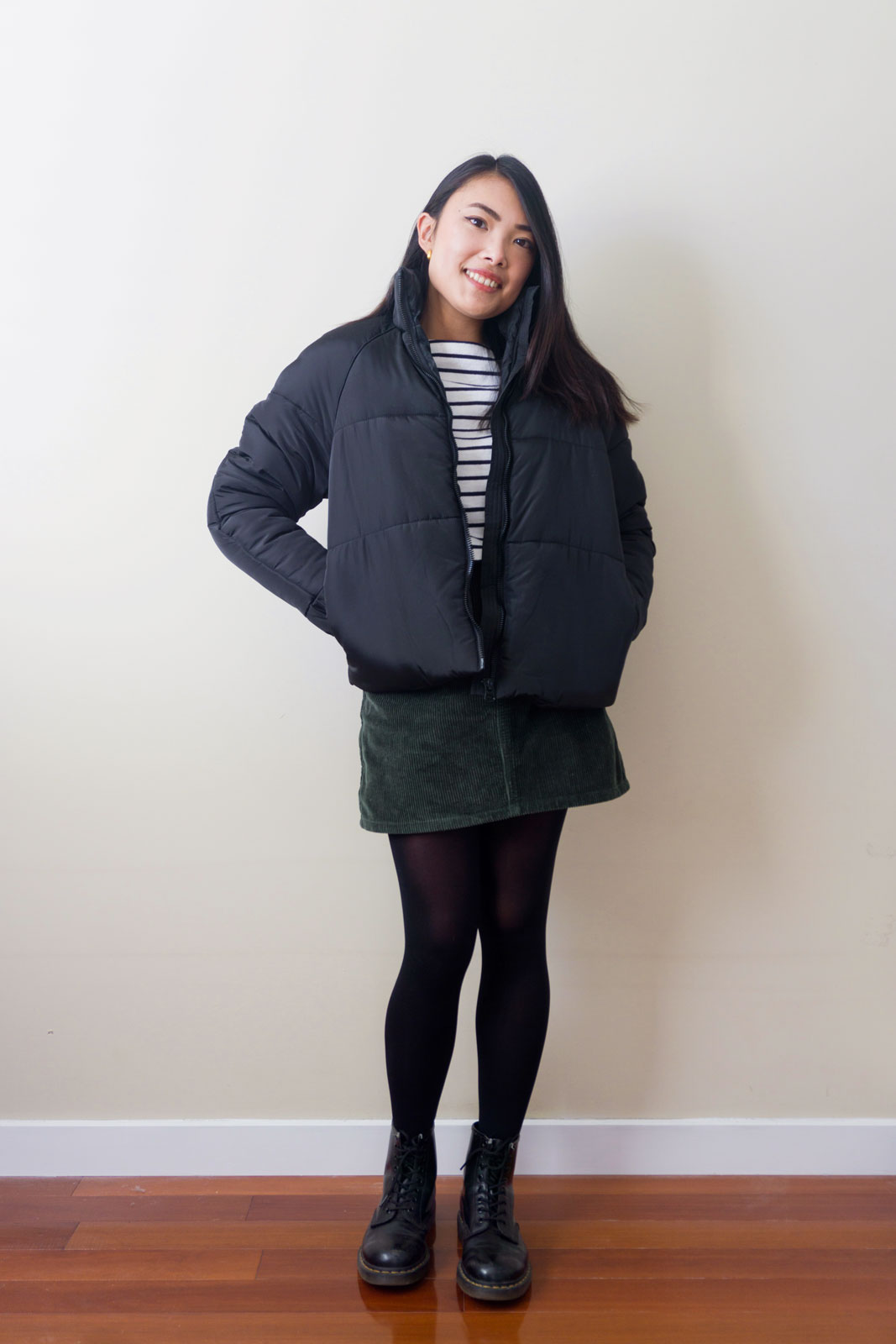 Assembly Label puffer jacket, Uniqlo striped tee, Sportsgirl skirt, Dr. Martens boots
In fashion, what goes around comes back around. While Doc Martens seem to be trending right now, I've actually had my pair for years! I bought them way back in high school, and there's probably even an old post of me wearing them somewhere on this blog.
To be honest, my Docs never got much wear back then because I didn't know how to pull them off. But since then my style has evolved, and now I find myself wearing them with anything and everything. Since my style's pretty minimal, I love how Docs add some edge to an otherwise boring outfit. Not to mention, it's just fun to stomp around wherever I go.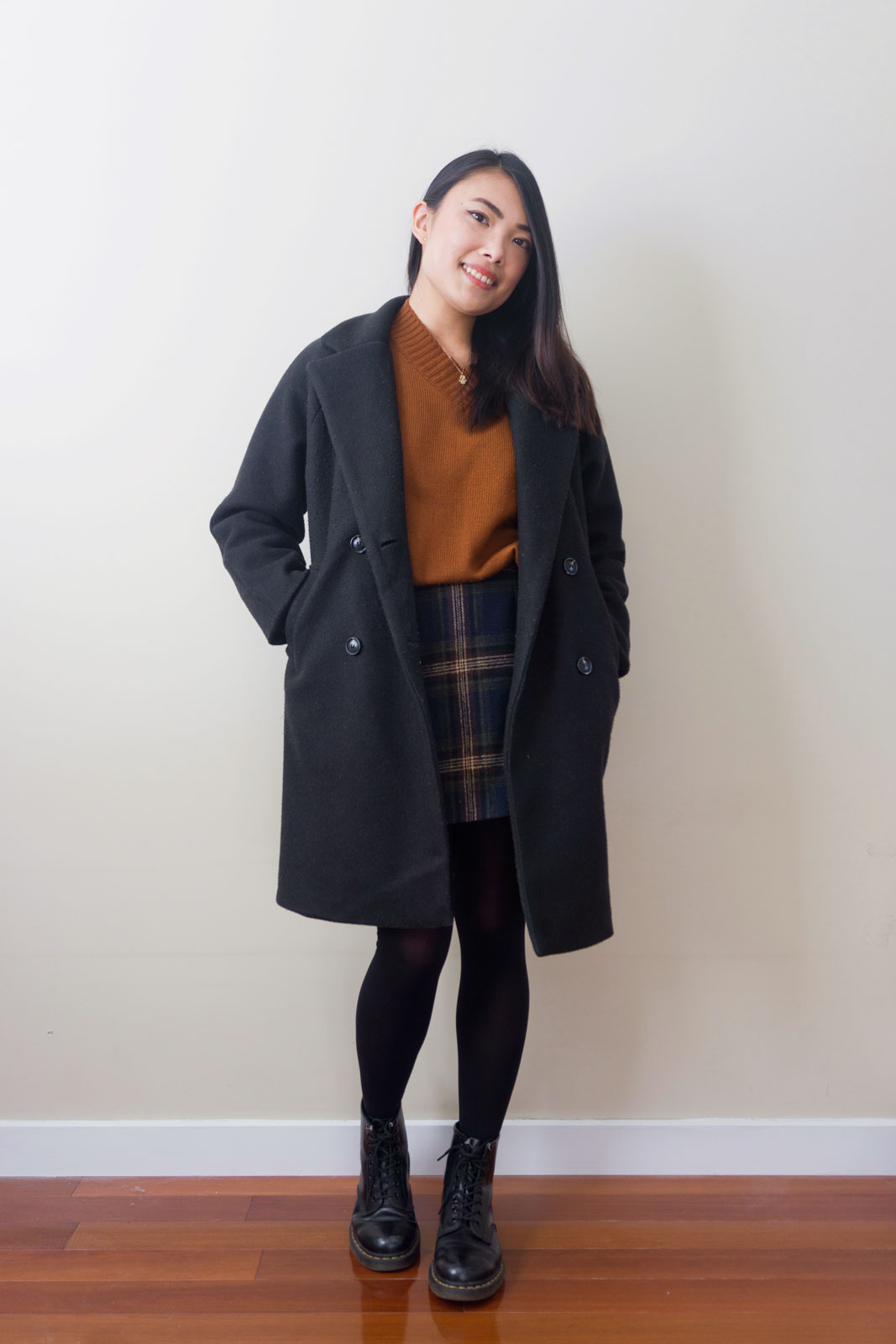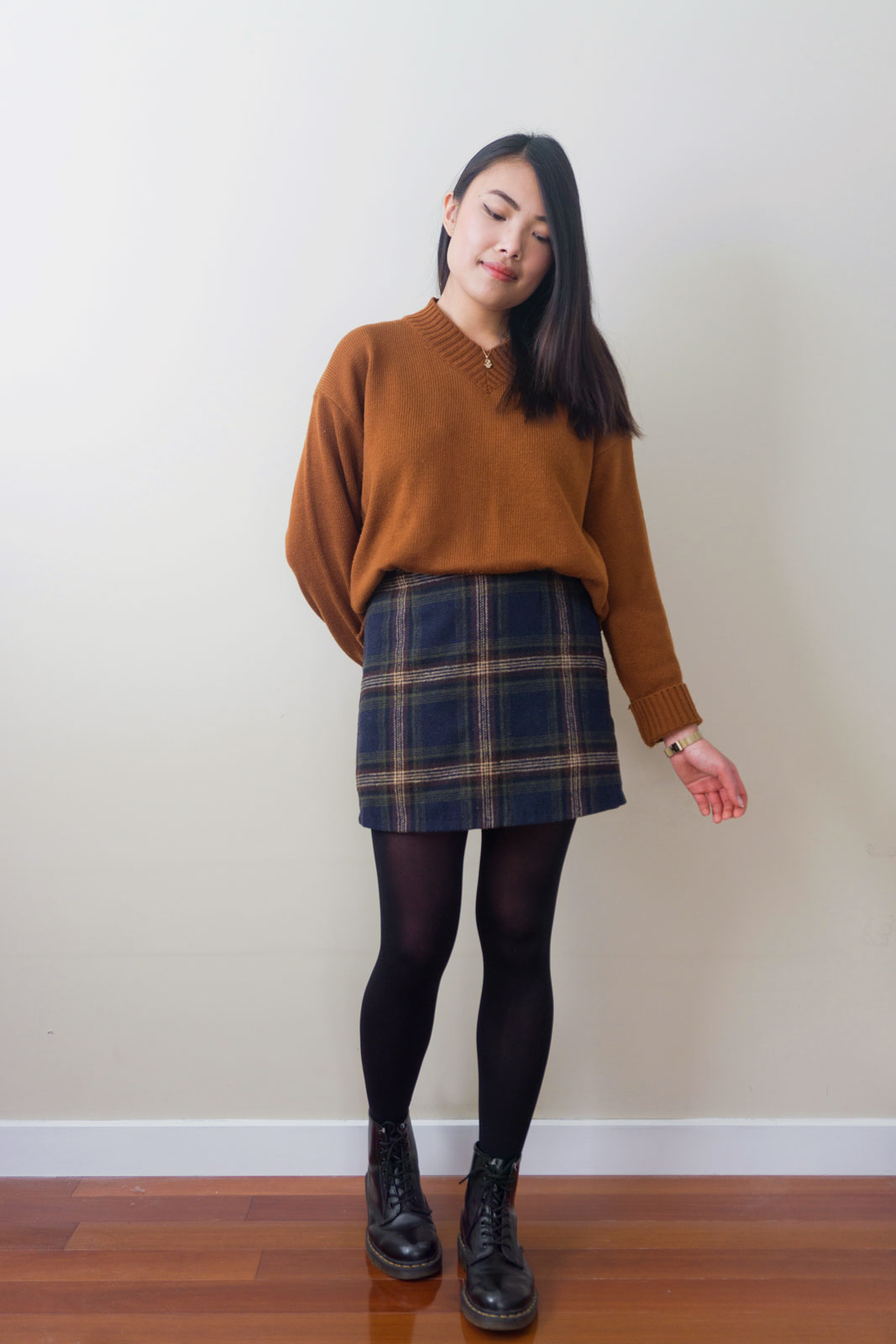 Coat, jumper and skirt from Korea, Dr. Martens boots

When I visited Korea last year, plaid mini skirts like these were everywhere. I honestly regret not buying more when I had the chance – they're surprisingly versatile, and add a cute touch to my otherwise monochrome wardrobe.
While plaid skirts can look a little schoolgirl-esque, it's really about how you style it. I tend to avoid pleats, and go for an A-line silhouette. Pairing them with an oversized sweater also makes the look a lot more casual, and less likely to be mistaken for uniform.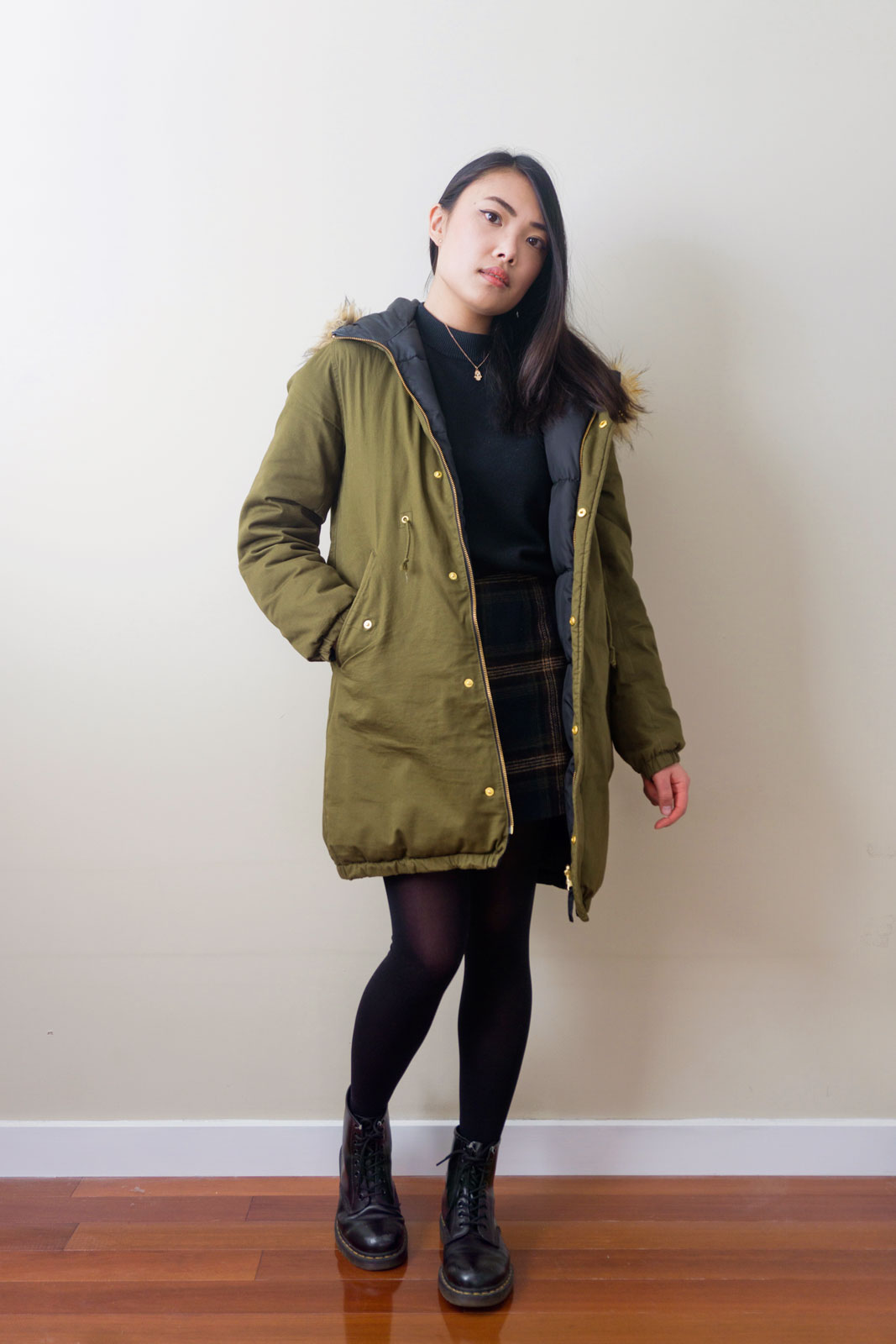 Puffer coat from Japan, thrifted mock neck top, skirt from Korea, Dr. Martens boots

No joke, this coat is the same one I wore to brave the snow in Japan. Even though it doesn't get as cold in Sydney the wind's killer, so this jacket has been getting a lot of use recently! Anyway, a good parka is a staple that everyone should have in their wardrobe. This one has pockets big enough to fit my wallet and snacks, so that's a nice bonus.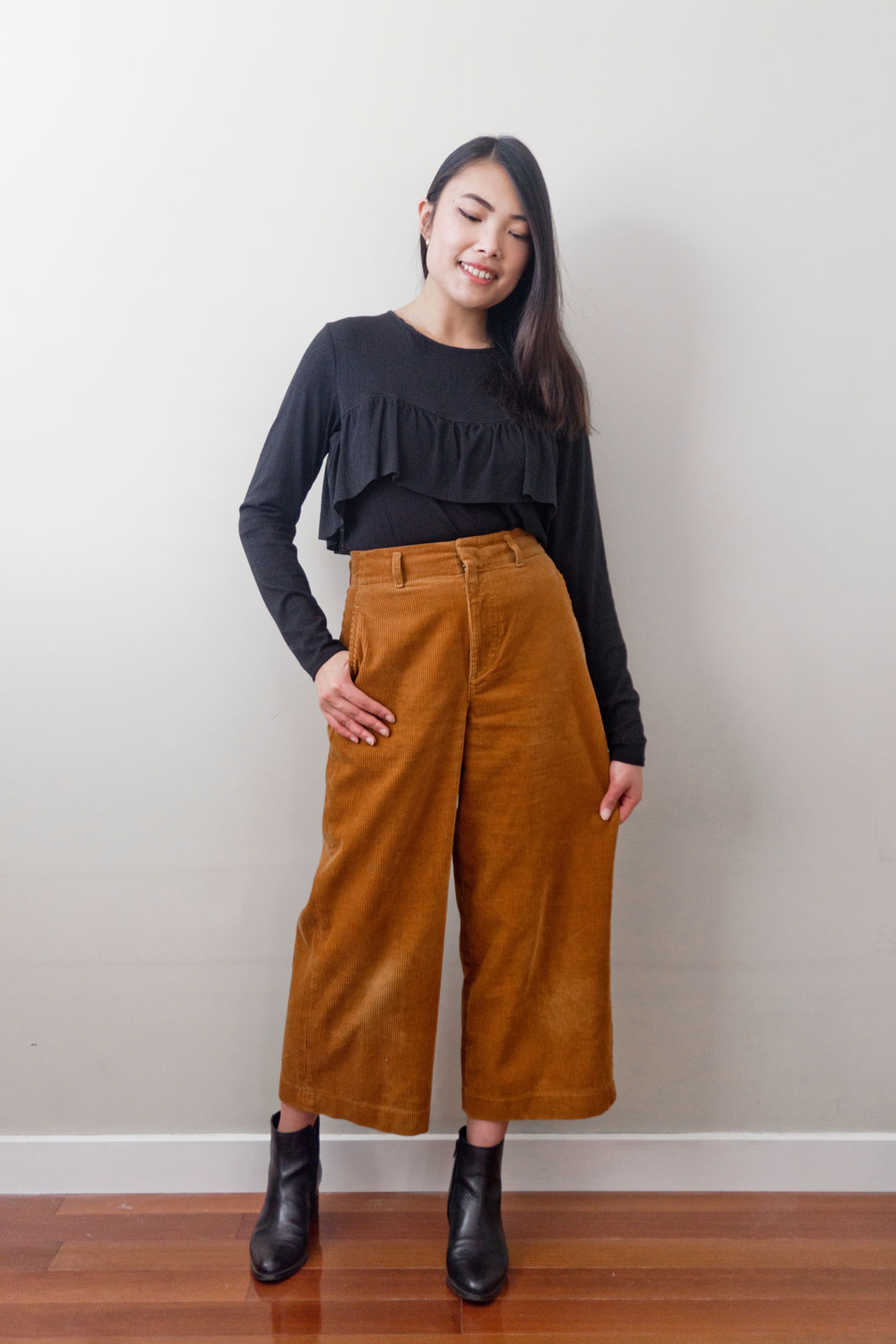 Assembly Label puffer jacket, Zara top, Uniqlo pants, Tony Bianco boots

I've never been a huge fan of wearing pants. For some reason I can never find styles that I like, but these corduroy pants from Uniqlo are an exception! They're supposed to be 'cropped', which really means the perfect length for someone my height haha. There are plenty of gorgeous colours available, but I just couldn't resist this autumny shade of rust.
Anyway, I love that the material is cosy for winter, but still breezy enough for when the weather heats up a little. Paired with a black top and matching shoes, this outfit is a total no-brainer.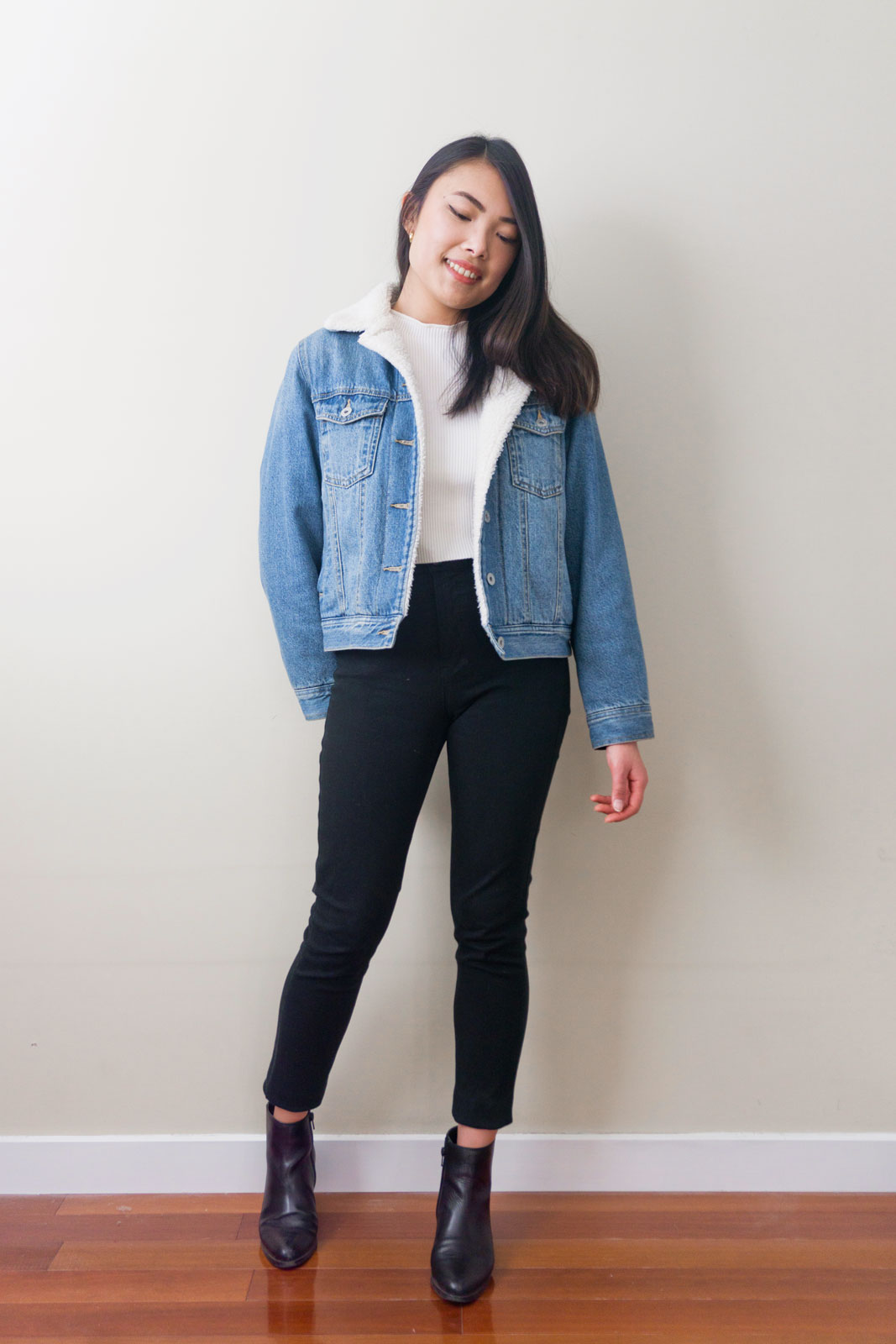 GU denim sherpa jacket, secondhand top, Uniqlo jeans, Tony Bianco boots

A rare outfit of mine featuring double denim. This sherpa denim jacket is a warmer update on the classic style, and I've been seeing similar styles everywhere recently. While only the torso is lined with fleece, it still does a pretty good job of keeping me nice and toasty.
I kept everything else simple with a basic top, jeans and my go-to pair of black boots. I'm actually quite picky when it comes to ankle boots, so I was searching for a long time before I found this pair. They're not too high, not too low, and have a zip, which is surprisingly hard to find in a shoe these days. Anyway, moral of the story – it pays to be picky about what you like!