Welcome to another instalment of Sydney Snacks… this time, the South West edition! Honestly, this topic is one I've been excited to write about for quite some time now. Western Sydney is a total goldmine for good food (especially Asian cuisine), but it's rare that you'll see glossy food publications covering it. The local hidden gems often have no online presence, so knowing where to eat can be a bit of an 'if you know, you know' kind of situation.
For context, Sydney is a pretty big place. The suburbs are home to a huge variety of cultural communities, so we're pretty spoilt for choice in terms of food here! Everyone knows to go to Eastwood for Chinese food. Strathfield for Korean. And of course, Cabramatta and its surrounding suburbs are famous for Vietnamese food, and have inspired many a food tour in the area. Some of the restaurants there are institutions that have been there for decades, and probably will remain for years to come. Anyway! Here are some local eats I've been enjoying recently:
An Restaurant, Bankstown
Located in Bankstown, Pho An is arguably the most famous of all the pho restaurants in Sydney. Melissa from Masterchef Australia even name dropped it in one episode, much to my surprise (and delight)! Anyway, as the name suggests they sell one thing and one thing only – Vietnamese pho. Have it with an iced coffee or coconut juice on the side, and you've got yourself a pretty darn good meal.
Pho An is widely considered to be the best in Sydney, but in my humble opinion? I think it's just okay lol. While the soup's delicious, I'm not sure if it quite justifies the $17-19 price tag. That's a lot by the way, compared to smaller shops that often go for $15 or under… but anyway, each to their own! My go to order is pho tai, which is topped with raw beef slices that get cooked gently by the steaming hot beef broth. Other popular options also include pho dac biet with the works (like beef tendon and tripe) and chicken pho, if you're so inclined.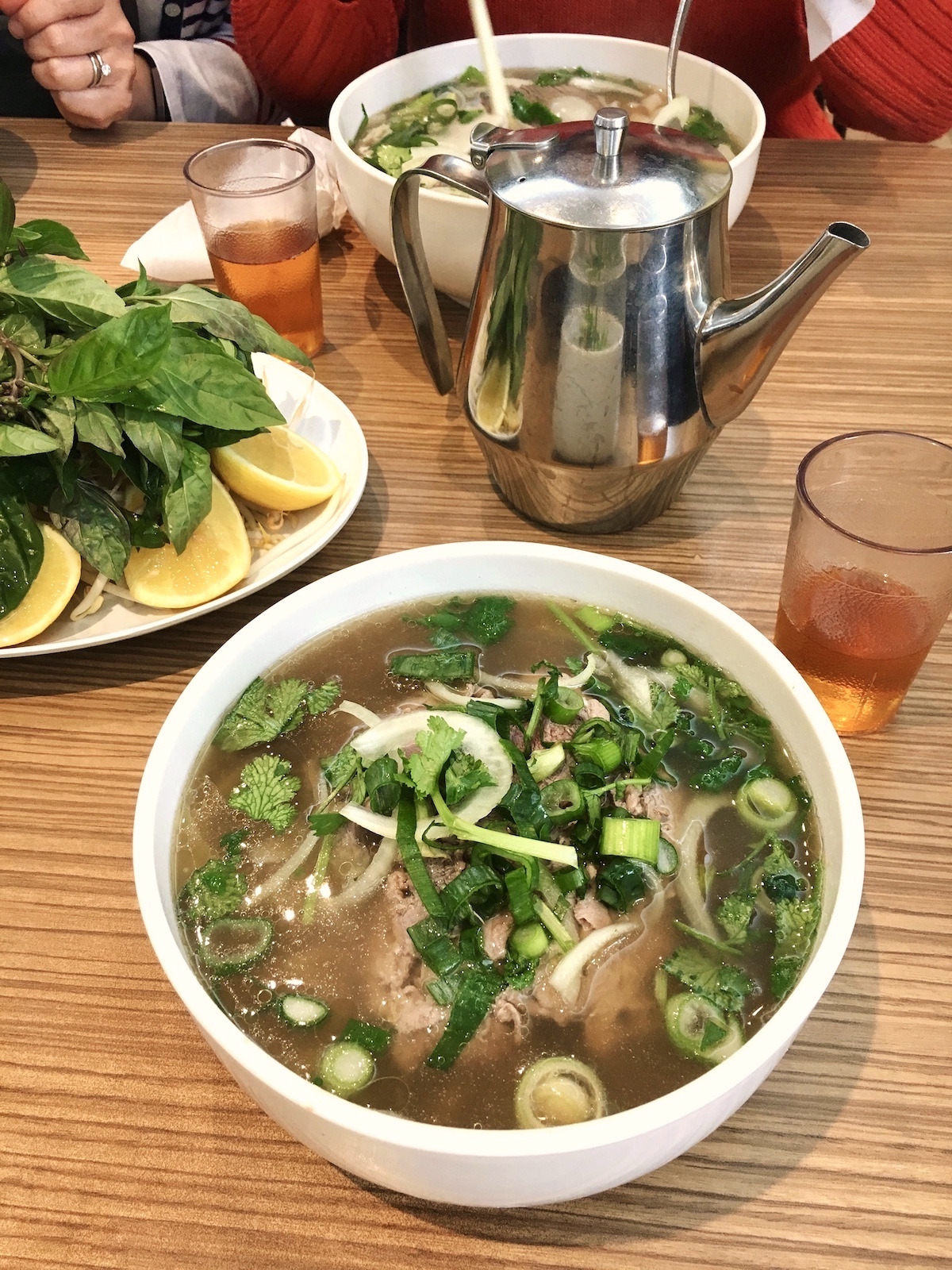 Hot Bread, Cabramatta
Ahhh, the classic banh mi. If you're ever in Cabramatta, you'd be forgiven for not knowing which spot to choose for this quintessential Vietnamese sandwich. There are literally bread shops on every corner, and they all boast super competitive prices! My family has always bought banh mi from a kinda dingy looking shop next to a car park, simply known as Hot Bread. And for the price, there's really no beating it. At $3.50 a roll and $20 for 8 (last time I checked, anyway), it's probably the best deal you can get anywhere in Sydney!
While quite a few eateries try to spruce up banh mi with pork crackling and rustic loaves, in my opinion nothing beats the original. It needs the questionable deli meat. The buttery mayo you can feel clogging your arteries. The earth-shatteringly crunchy bread roll that threatens to injure the roof of your mouth… the experience just isn't the same without it!
Sadly, it's been a hot minute since my last banh mi as it contains pate, cold cuts and homemade mayo — all things I'm forbidden from eating post transplant. ? However I am thinking about how I can make my own transplant/pregnancy-safe version, so watch this space for my take on it!
Sauce Thai & Laos, Canley Vale
If you're visiting Sydney, the most surprising thing you'll discover will probably be the sheer number of Thai restaurants here. Of course the quality varies greatly, but occasionally you find a true hidden gem that you know is made for Thai people, by Thai people.
This tiny restaurant on the side of a main road in Canley Vale is one of them. I actually found out about Sauce because my dad is friends with the owners, but it turns out they're not new to the restaurant scene at all! They already have a thriving Thai restaurant in Sydney's CBD. Anyway, Sauce has everything you could possibly want from a Thai restaurant, along with a few typical Lao dishes on offer. We ordered the soft shell crab, which arrived with a generous serving of of curry piled on top. Raad na, a dish consisting of either rice noodles or deep fried egg noodles doused in gravy sauce. They also have a great range of entrees and side dishes, such as homemade fish cakes and ox tongue. I've been there multiple times now, but it'll probably be some time before I've tried everything they have to offer!
Vinh Phat, Cabramatta
Let's be real, there's no shortage of yum cha restaurants in Cabramatta (or Sydney, for that matter). But on most weekends the line at Vinh Phat winds around the block, and for good reason. The food is just that good!
Of course there's your typical har gao and shiu mai, which are guaranteed crowdpleasers. But one thing that Vinh Phat is really known for is their cheung fun, or rice paper noodles topped with soy sauce. Honestly, I'm yet to find a better one anywhere else in Sydney. The cheung fun at Vinh Phat is incredibly silky and slippery, just the way it's meant to be. Not to mention, you can order it multiple ways — ones with prawns, ones with fried dough inside, ones with prawn and fried dough inside. It's so indulgent, but that's exactly what makes it my all-time favourite yum cha dish. Hot tip: the fried dough version can be hard to come across, so my advice is always to just order it from the menu!
Other favourites of mine from Vinh Phat include their deep-fried prawn rolls, surrounded by delicately crisp beancurd skins and sweet plum sauce. Chicken feet, as controversial as it is. And of course the meal wouldn't be complete without a dessert of warm silken tofu, topped with ginger syrup.
Pho More, Moorebank
When I discovered that this low-key restaurant would be opening in Moorebank, I was super excited. It can be hard to find decent Vietnamese food outside of the Fairfield district, so the arrival of this newcomer makes it so much easier to satisfy my cravings! Anyway, as the name suggests Pho More's specialty is – you guessed it – pho noodle soup. I've tried their pho tai, which I'd say is comparable to most other pho shops I've tried. However, the range of their full menu is also quite impressive. From lesser known noodle dishes to rice and vermicelli bowls, they're bound to have something for everyone.
One of my favourite things to get from Pho More is actually their crispy chicken, which I always order with dried egg noodles. It's a big call, but I'd argue that this version is better than the ones you can get from dedicated restaurants! The chicken is plump and juicy with a crisp exterior, exactly the way it's meant to be. The dried noodles are equally as delicious, and come generously laden with sauce, fried onions and cubes of pork fat.
Also pictured is their combination vermicelli bowl, which turned out to be a much bigger meal than I expected (not that I'm complaining)! The noodles and salad are topped with shredded pork, a spring roll, pork chop and sugar cane prawns. I've also tried salt pepper squid expecting it to be good, because let's be real – anything deep fried can't be possibly be bad. What I didn't expect was just how soft and tender the squid would be. The seafood was super fresh with a decent kick from what I'm assuming was chilli and five-spice powder. Needless to say, we polished off the full-sized serving in no time at all!