It's no secret that whenever I travel, searching for good food is one of my top priorities. After all, there's no better way to understand a culture than by looking at the local cuisine! While I like to think that we have pretty good Korean food here in Sydney, I was excited to try one thing in particular – that is, authentic Korean street food! There are so many goodies you can find on the streets of Seoul, but nowhere else in the world. Needless to say, I wasn't disappointed by what I found. Here are some highlights of what I ate in South Korea: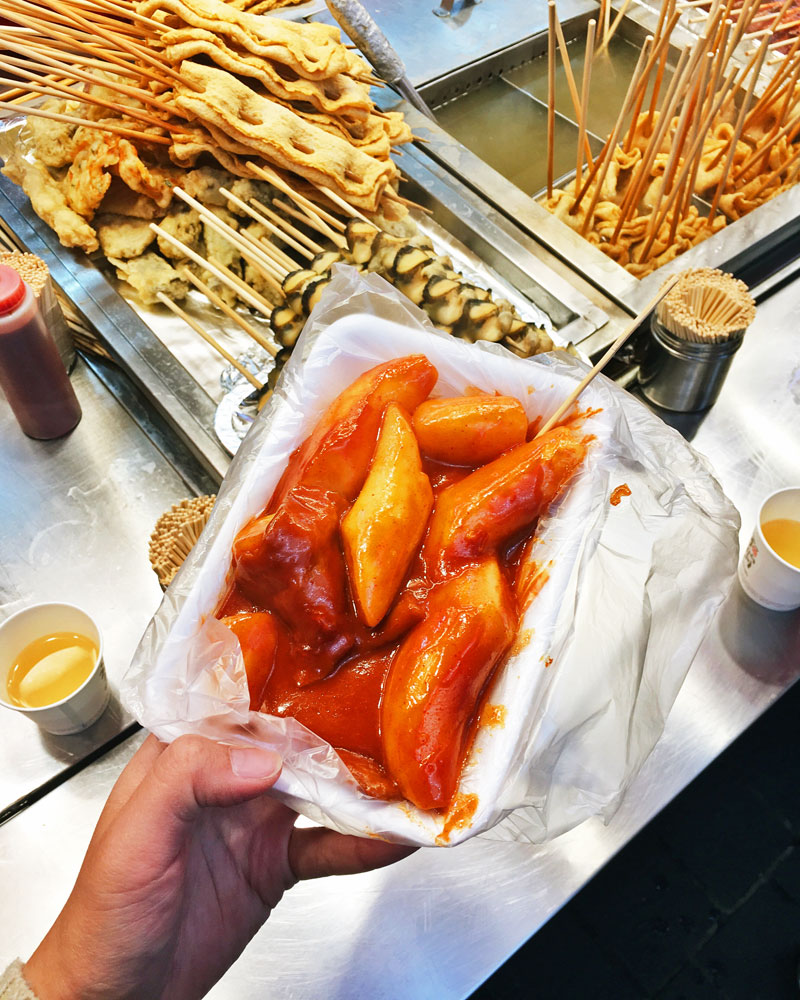 If you try any street food in Korea make it tteokbokki, or spicy rice cakes! It happens to be one of my favourite comfort foods, and not just within Korean cuisine. Anyway, this tteokbokki came from one of the many street food stalls in Myeongdong. To say it was good would be an understatement. Not just because I love carbs, but also because the rice cakes were some of the fattest and chewiest ones I've ever eaten! It even came with a cup of hot soup, all for the measly price of three dollars.
Right after that I had soondubu jiggae, or soft tofu stew for lunch. All that spice might seem like overkill, but one thing's for sure – it definitely warmed me up in the freezing cold that day! The soup literally arrives bubbling hot, since it's assembled and served in the same bowl. When it comes to comfort food, it really doesn't get much better than that.
Gyeran-ppang, or egg bread, is everywhere in Korea, and I finally got to try it in Busan! The taste is unexpectedly sweet and savoury, and definitely threw me off at first. After all, it's essentially a warm cake with a whole egg baked inside! You can also opt for versions with cheese and bacon in it. Anyway, I definitely think this is something that would make a good breakfast on the go.
On a wintery cold day you can't go past hotteok, a sweet pancake that you can find on most Korean shopping streets. Just be sure not to eat them too quickly, or risk burning your tongue! This one came with a traditional brown sugar and nut filling, but I've also heard of places that fill them with cheese, Nutella and pizza toppings. The premise is so simple, yet so good. Hotteok is made from a simple yeast dough, and definitely something I'd like to attempt making at home!
Whenever I visit a new country, I'm all about exploring the local supermarkets and convenience stores. However, what really struck me about Korean convenient stores is the sheer variety of milk they have in there! Along with the standard coffee, chocolate and strawberry milks they had banana, orange, grape… and melon milk available. Obviously I had to try it, and this particular one tasted exactly like a Melona ice cream bar.
Besides fun flavoured milks, I went a little crazy with these yoghurt-flavoured gummies available at 7-11. I also had my fair share of convenience store kimbap and rice balls for breakfast, along with breads and sandwiches.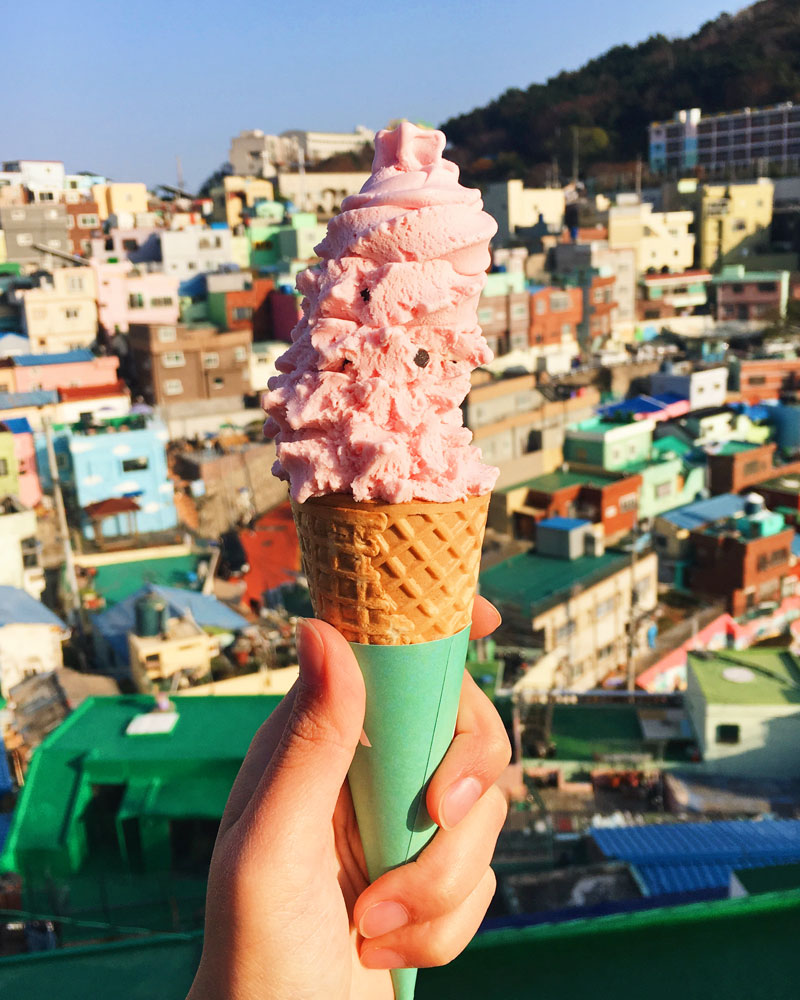 If I'm being completely honest, Busan Cultural Village didn't have much variety in terms of food. It's quite isolated from the city, so I'd definitely recommend eating elsewhere if possible! However, half the reason I bought this ice cream was so that we could enjoy the view at the cafe I got it from. Admittedly it was a little cold for ice cream, but that's never gotten between me and dessert! I also had this fish cake, which was pretty interesting. There were tons of flavours, but naturally I opted for one with cheese on the inside.

Obviously, you can't mention Korean food without bringing up their legendary fried chicken. So one night we decided to eat at BHC Chicken, where that was literally the only thing on the menu. You could choose between boneless and regular chicken, but the latter was definitely superior. It was super juicy, and had that perfect crunchy exterior. It's not pictured, but we also got a super spicy version, which was doused with red chilli powder. That one definitely turned out to be my favourite!
We couldn't leave Seoul without having KBBQ, so that's exactly what we ate on our last night. However, we totally weren't expecting the shop owner to cook our dinner for us on a separate grill! Other restaurant goers were cooking their own meat, so I'm guessing she decided to lend us a helping hand because we were foreigners haha. Not gonna lie, the meat did taste better after someone had cooked it for us. I also had dolsot bibimbap, which is a mixed rice bowl in a stone pot. Again, I saw that the shop owner had fried my egg for me (since it usually comes raw) although I wouldn't have minded either way!
While I couldn't tick off everything I wanted to eat in South Korea, I did get pretty close. But if I'm talking about favourites, that tteokbokki was definitely the best thing I ate! To this day I still think about those chewy rice cakes, and don't think I'll ever find an equivalent in Sydney. Guess I'll have to go back to Seoul one day just to eat it again!