If you ask me, there's nothing more satisfying than having a big breakfast. Besides the fact that I'll never pass up an opportunity to eat eggs, waking up in time for the breakfast menu always leaves me with a weird sense of accomplishment afterwards. Unfortunately that also means I don't go out for breakfast or brunch nearly as much as I'd like, but my wallet will probably be thanking me for it!
Anyway, one rainy morning my friend and I decided to drop by Autolyse in Central Park. While I love Surry Hills and all the cafes it has to offer, it's a bit of a trek for someone who lives far from the city like me. Autolyse isn't exactly new anymore, but it's definitely one of the more popular dining options in the convenience of Central Park. It has a unique menu that's super tempting, which is all the more dangerous for me since uni's just a hop and skip away…
True to form I ordered a mocha, since I still can't get used to having full blown coffee just yet. There was no shortage of chocolate and it seemed to be melted into the rest of the drink, which is more than I can say about other versions I've tried! Autolyse also has a number of teas, cold pressed juices and coffees on offer, which I barely even noticed on a board behind the front counter.
So the whole reason for this trip was because I wanted to try Autolyse's 64 degree eggs, or good old eggs Benedict under a different name. It had kale, poached eggs, smoked salmon and hollandaise sauce all on a cheesy sourdough muffin, although you can also switch out the salmon for ham or bacon. It was sooo good, the eggs were cooked perfectly and I loved the buttery hollandaise sauce! If I had to nitpick all the components together ended up being a bit rich, so I'm thinking I might've been better off with either ham, or at least a plain muffin. Nevertheless, eggs Benedict's one of my favourite breakfast dishes and this one definitely hit the spot.
My friend got the bacon cheese bruschetta, which came with bread toasted with cheese, avocado spread and bacon with more cheese on top.
She likened it to a breakfast pizza, and mentioned that the woodfired edge seemed to give it that distinct smoky flavour. Although she liked it she also found it a bit cheesy, and added pepper to balance it out. As if that weren't enough it also came with salad and a plain omelette, which looked really tasty. I should probably n
ote that these two items are only available until midday, so people who love their weekend sleep in need not apply!
Considering it's named after a baking technique, it's not surprising that Autolyse has a lot of pastries and breads that are baked onsite. In fact, I'm pretty sure we would've indulged more if time (or our stomachs) allowed for it! My dining buddy and I shared the pain au chocolat and it was super flaky and buttery, just like a croissant should be. When we got to the chocolatey centre the ganache was insanely rich and bitter, probably not to everyone's taste but I thought it was necessary to cut through the buttery croissant layers.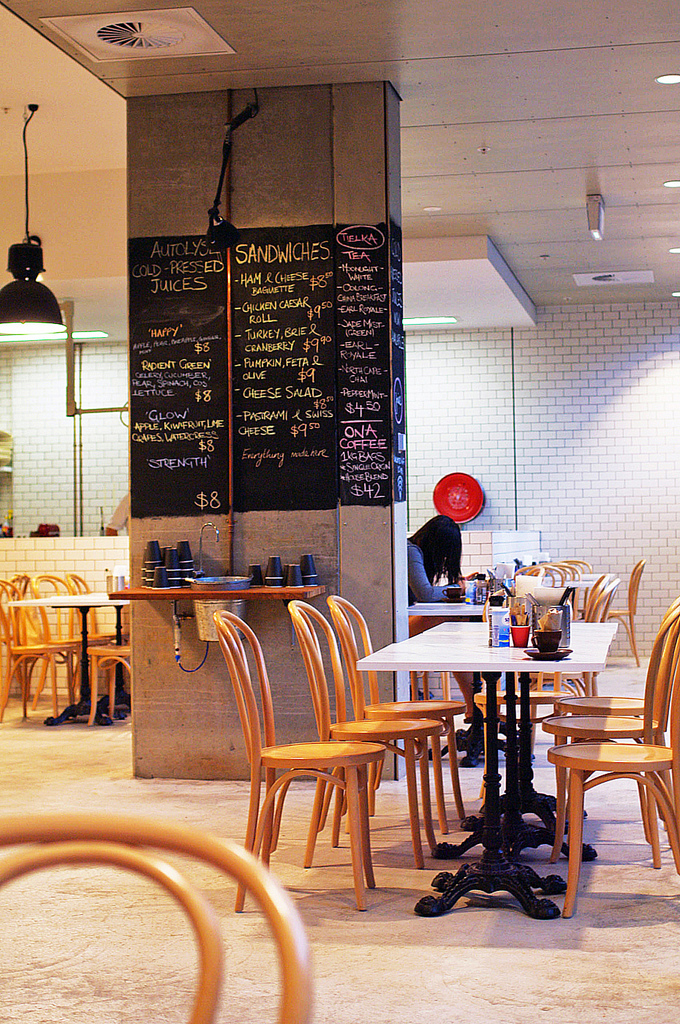 If you miss out on breakfast don't fret, since there's tons to choose from on the all day menu. On my first visit I had the sous vide lamb shoulder sandwich, which was packed with pickled onions, pulled lamb shoulder, and tabouli. It was quite light and tasty, although I did wish the lamb was a little less dry. Apparently they've started doing these in burger form now, so I'll have to try that on my next visit.
My friend got the roasted pumpkin, beetroot and kale salad in the background, and I never thought I'd say this but I kinda had salad envy! Apparently it was really filling too, and on top of that it came with bread and butter on the side.
Not the best shot of the exterior since it started pouring down, but you get the point. All in all, I love this place and will definitely be back! The staff's super friendly and accommodating. Plus it has such a chill atmosphere, and is perfect for when you haven't had your first coffee and need a bit of peace and quiet. Anyone else a fiend for breakfast/brunch/whatever you prefer? I'd love to know!